---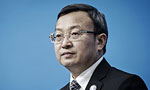 China would help support the Private Public Partnership projects, which Sri Lanka was envisaging including the ones in the South, Chinese Vice Minister of Commerce Wang Shouwen said.
Mr. Shouwen made this remark in response to a comment made by Prime Minister Ranil Wickremesinghe at the at the World Export Development Forum in Colombo that Sri Lanka was looking for Public-Private Partnerships on developing the Hambantota Port and the Airport in Mattala.
"I can assure China's assistance to Sri Lanka in fulfilling its goal of implementing the projects, which the Prime Minister was talking about," he said.
The Chinese Vice Minister stressed for greater cooperation of the Asia Pacific region when it came to development of trade.
He also called for new initiatives such as e-commerce to enhance trade in the region and the world. (Yohan Perera)