---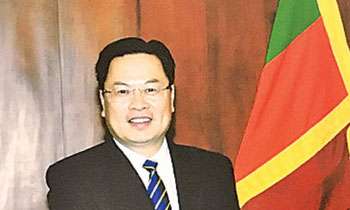 China and Sri Lanka are moving forward with each other, upholding the international order of openness and inclusiveness, mutual benefit and win-win results, Chinese Ambassador to Sri Lanka Cheng Xueyuan said.
Ambassador Xueyuan said this in a statement issued on the occasion of the 62nd anniversary of the establishment of the China-Sri Lanka diplomatic relations.
"China-Sri Lanka cooperation under the Belt and Road Initiative has not only brought tangible benefits to the two countries and two peoples, but also brought new opportunities to regional development. The under-construction Colombo Port City, the Hambantota Port and Industrial Park are expected to become the new powerful engines for Sri Lankan economy to take-off. The gradual completion of the Puttalam Power Station, the Moragahakanda - Kalu Ganga Project, the Airport Expressway, the Southern Expressway, the Central Expressway and the Southern Railway has fundamentally changed the development landscape of the Sri Lanka. China's aid, training, technology and management as well as the job opportunities created by these projects are deeply changing the future and destiny of ordinary people in Sri Lanka. I believe that Sri Lanka will regain its glorious status as the crossroads of the Indian Ocean in the near future and Sri Lanka people will live a happier life. With such deep integration and win-win development, the relations between our two countries definitely make steady progress and enjoy a brighter future," he said.
He said China welcomes Sri Lanka and other countries on board the express train of its development.
"Under the guidance of the important consensus reached by our two leaders, we will adhere to the golden rule of "extensive consultation, joint contribution and shared benefits", maintain our "strategic focus", suppress interference, focus on the friendly and pragmatic cooperation under the framework of "Belt and Road", promote the construction both in substance and depth, and bring more tangible benefits to our two countries and two peoples. May the China-Sri Lanka friendship be everlasting! May our two countries strong and prosperous, our two peoples enjoy happiness and well-being!," he said.