---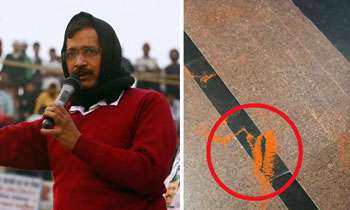 A man had thrown chilli powder at Delhi Chief Minister Arvind Kejriwal outside his office at the Delhi Secretariat today, the NDTV reported. The attacker, identified as Anil Kumar, has been taken into custody, officials said.
According to the NDTV, Kejriwal was leaving for lunch after finishing up meetings when the attack took place outside the chief minister's chamber on the third floor.
"The accused called out to the chief minister, took out a letter along with chilli powder from his pocket and threw it at him. The chilli powder did not go in the eyes of Arvind Kejriwal as he wears glasses. But the glasses fell and broke as the chief minister tried to duck," AAP lawmaker Alka Lamba said to NDTV.
She accused the Delhi Police, which is controlled by the BJP-led central government, of "completely failing"to ensure the Chief Minister's security.
Calling it a dangerous attack, Mr Kejriwal's Aam Aadmi Party (AAP) alleged the BJP had sent out word that whoever targeted the Chief Minister or his party would be protected.
The BJP has condemned the incident. "I strongly condemn it. This should not be tolerated or justified. The matter should be investigated,"Delhi BJP Chief Manoj Tiwari said.
The NDTV said Kejriwal has in the past been attacked with ink, slippers and slapped while campaigning for elections.