---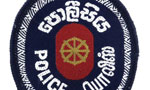 Twenty-six Chief Inspectors were today promoted to the rank of Assistant Superintendent of Police (ASP) by IGP Pujith Jayasundara with the approval of the National Police Commission (NPC).
Some of the promoted officers had filed a fundamental rights petition in the Supreme Court saying they had been deprived of promotions.
Police said another 12 Chief Inspectors were shortlisted for promotions and that they would be promoted after the ongoing legal action and disciplinary action against them were completed.