---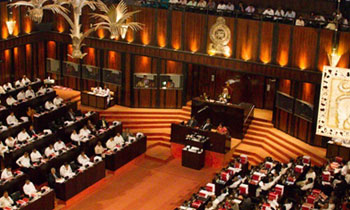 Parliament was plunged into chaos this morning after Speaker Karu Jayasuriya made a statement regarding the Constitutional Council (CC) which he heads.
The Speaker, in his address, dismissed several claims made by President Maithripala Sirisena.
Chief Opposition Whip Mahinda Amaraweera said the remarks made by the Speaker on the President were not acceptable.
UPFA MP Dinesh Gunawardene said the President could be criticised only by bringing in a motion.
However, the Speaker responded saying it was his right to clarify what the President said about the CC. "I have the right to make a clarification as of the head of the CC. I don't intend going into a conflict with the Executive," he said.
The Speaker also said the issue could not be turned into a debate as the government was prepared to give a debate next week.
Mr. Gunawardene said his party still addressed him as the Honourable Speaker despite the way he was acting.
"I don't want to earn respect and do not expect anyone to call me honourable," the Speaker said.
Leader of the House Lakshman Kiriella said the government was prepared to give a debate on the CC issue. However, the House flared up at that time. "We will not give any debate if the opposition misbehaves," the Speaker said.
The Speaker then suspended sittings, calling for a party leader's meeting to decide on the next course of action.
The session resumed after 15 minutes but the House then focused on the sudden malfunctioning of the lift.( Yohan Perera and Ajith Siriwardana)