---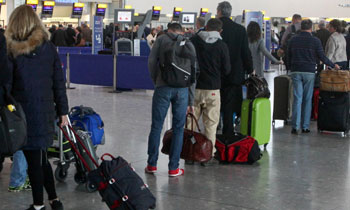 Passengers at the Bandaranaike International Airport (BIA) were among those greatly inconvenienced due to the airport's online computer check-in systems crashing yesterday.
This had apparently occurred worldwide with disruptions being also reported at airports around the world due to a crash in the computer programme of the worldwide online Amadeus Altea system, the duty manager at the BIA said.
According to him, the online check-in systems and Advanced Passenger Processing (APP) system attached to the Amadeus Altea software had not functioned for two hours.
The system started to malfunction at 2.30 p.m (Sri Lanka time) and was restored at 4.30 p.m (SL time) worldwide. "The BIA computer system was unable to print the passengers boarding passes and we were unable to view the passenger passport details. However the employees managed to issue boarding passes manually during the time the systems were off," he said.
The Daily Mirror learns that among the airports that suffered disruptions were London's Heathrow and Gatwick, Charles de Gaulle in Paris, Changi in Singapore, Johannesburg, Zurich, Melbourne and Washington DC's Reagan Airport.
According to international media reports, Amadeus, the company that provides check-in software to more than 100 airlines around the world has confirmed that it was experiencing a network issue which caused the disruption.
It further said, "Technical teams worked on the problems and the services were gradually being restored." (Chaturanga Pradeep)