---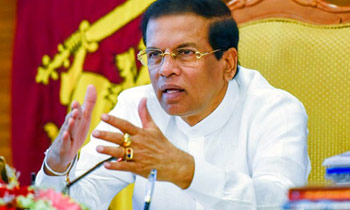 President Maithripala Sirisena today said there will be changes in the government activities within the next two weeks, including changes in heads of state institutions. He said this would entail in how things would be done by the government as well especially with regard to development activities.
Asked what the changes were and whether there would be a cabinet reshuffle, the President replied that everybody would be able to see the changes before Vesak (May 13-14).
The President who was addressing the editors and media heads at the President's House today also emphasized that the country was not facing an economic crisis. He noted that there were positive steps being taken in the economic front with the advice of the International Monetary Fund (IMF). He said the Finance Minister and other officials were in Washington discussing matters with the IMF and the outcome looked very positive.
The President assured that the country is heading positively towards economic stability. He added that the country's foreign reserves have already exceeded US Dollars 5 billion and expected to improve further in the coming months. He said that the international market prices of tea, rubber and coconut have increased, thus there is a positive trend in foreign exchange earnings from these traditional exports. "The economy is very sound and there is no possibility at all about an economic collapse," he said.