---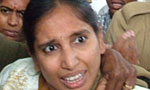 The Central Government of India on Wednesday denied media reports that it has rejected a proposal by the Tamil Nadu government to free seven convicts in the Rajiv Gandhi assassination case, the Hindustan Times reported today.
Reacting to a report published in The Hindu, the ministry of home affairs told CNN-IBN that no such decision has been taken because it was still consulting the law ministry in this regard.
The Hindu reported on Wednesday morning that the Centre has turned down the Jayalalithaa government's proposal to free seven convicts – namely V Sriharan, AG Perarivalan, T Suthendraraja, Jayakumar, Robert Payas, Ravichandran and Nalini. It quoted ministry officials as saying that as "the matter is sub-judice in (the) Supreme Court, it has no authority to release the prisoners".
Former Prime Minister Rajiv Gandhi and 14 others were killed on May 21, 1991, when a suicide bomber from the The Liberation Tigers of Tamil Eelam blew herself up after touching his feet at an election rally in Sriperumbudur near Chennai.
The state government, in its letter to the Centre, stated that it has decided to remit the life terms of the convicts as they have "already served imprisonment for 24 years".