---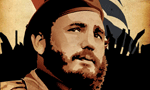 Prime Minister Ranil Wickremesinghe said today that though the United National Party (UNP) followed a line of policies that was different from the one that followed by Fidel Castro, his policies were hailed world over.
The former President of Cuba passed away on Friday at the age of 90.
Issuing a condolence message the Prime Minister stated the former Cuban leader was in the forefront among personalities prominent during the 20th century.
Mr. Wickremesinghe observed that Sri Lanka had a lot to learn from his revolutionary planning and reforms in the fields of housing, education and health.
The Prime Minister reminisced the close personal relationship that existed between the leader of the Cuban revolution and the former Sri Lankan President J.R. Jayewardene and recalled that Mr. Jayewardene sent a collection of best Sri Lankan teas to the Cuban leader every month, which in turn sent a box of precious Havana cigars to Mr. Jayewardene.
"I recollect with gratitude the contribution Castro made during the Angolan liberation struggle and the South African freedom struggle, while praising his support to Sri Lanka at the international level, maintaining diplomatic relationship with Sri Lanka since 1959," the Prime Minister stated.