---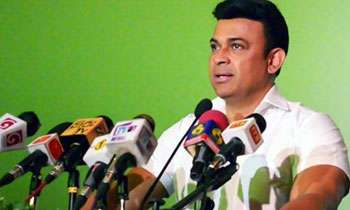 The Supreme Court today directed the Attorney General to submit draft rule on July 30 against Deputy Minister Ranjan Ramanayake to show cause as to why he should not be charged in respect of the two petitions alleging him to have committed Contempt of Court.
When the matter was taken up by a Bench comprising Chief Justice Priyasath Dep, Justices Priyantha Jayawardane and Murdu N.B. Fernando, President's Counsel M.A. Sumanthiran with Jerusha Crossette Thambiah appearing for Mr. Ramanayake said the procedure should be followed in all courts according to Section 793 of the Criminal Procedure Code Chapter 9.
He said as such the person who complains should forward the summons containing the charges to be served on the respondent and that the Attorney General had no role in the proceedings.
Additional Solicitor General Priyantha Navana appearing for the AG cited former minister S.B. Dissanayake's case and said the procedure followed in that case was that it was the AG who drafted the Rule for Contempt.
Counsel Sumanthiran said that case could not be followed because the expressed provision of the law was not followed and the practice of the Court could not override the expressed provision of law.
Petitioners Sunil Perera and Ven. Magalkande Sudaththa Thera are seeking contempt of court action against the Deputy Minister Ranjan Ramanayake alleging that he had made an insulting statement at a news conference on August 21 damaging the reputation of the Judiciary and the Lawyers. Rasika Tissanayake with Suraj Walgama appeared for the petitioners.
Petitioners said the statement was made at a time when the international community and organizations were trying to force the country to establish special courts to charge war heroes.
M.A.Sumanthiran PC with Jerusha Crossette Thambiah appeared for Ranjan Ramanayake while Additional Solicitor General Priyantha Navana with Senior State Counsel Shuharsho Herath appeared for the AG. (S.S. Selvanayagam)