---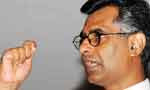 While questioning how the statements of the youth into the Rajagiriya accident were changed after four days later from the first statement, the Lawyers Collective member Namal Rajapaksha said some politicians have attempted to gain political mileage by bribing these youth.
Writing to the Police Chief, Lawyer Rajapaksha requested a proper investigation into the discrepancy of the statements and an inclusive investigation into the accident.
"Two politicians of the Opposition control these youth on the promise of foreign employment and money," he told media after handing over the letter to the Police Headquarters.
He also requested to probe the CCTV footage in the area of the accident. "A gang of about 20 persons had arrived on speeding motorcycles. The driver of the jeep 'Thusitha' had told that the vehicle belonged to Minister Champika Ranawaka. The driver had surrendered fearing for life after the youth had attempted to assault him," attorney Rajapaksha said.
Video by Richan