---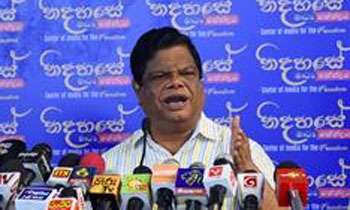 A future UPFA government would amend the recently introduced carbon tax and implement a single tax for all motor cars, buses, vans, motor cycles and trishaws in a manner that will not be a burden to the tax payers, UPFA MP Bandula Gunawardana said today.
He said the carbon tax was introduced by the UNF government without carrying out a survey and had become an unnecessary hardship to the vehicle owners.
The MP told a media conference that introducing a carbon tax in addition to vehicle emission test fee was inappropriate.
"The government expects to collect a revenue of Rs.2.5 billion annually from the carbon tax but there is not proper mechanism in place to collect the tax. The government says a motorist can pay the carbon tax in 2020 if he or she fails to pay the tax for 2019. This is an extra burden. The tax will apply to hybrid vehicles as well, which is unfair. In other countries, motorists are not harassed like this. In many countries there is only a single tax for motor vehicles. In Sri Lanka we have more than six kinds of taxes," he said.
The MP said it was understandable to impose taxes to protect the environment but the revenue collected must be used to compensate the public for the ill effects from air pollution but the UNF government did not have such policy though they are attempting to minimise environment damage.
"The SLFP will meet the President to explain the negatives of the carbon tax on motorists and request to change it and impose a better system that will not heap more burdens on motorists after consulting all stakeholders," he said.
Quote -- The government expects to collect a revenue of Rs.2.5 billion annually from the carbon tax but there is not proper mechanism in place to collect the tax. (Sandun A Jayasekera)