---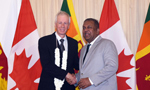 Canada today welcomed Sri Lanka's positive engagement in the Human Rights mechanism in the context of the UN Human Rights Resolution on Sri Lanka.
Visiting Canadian Foreign Minister Stéphan Dion speaking at a press briefing noted the country's progress in constitutional reforms and noted that measures had been taken to establish an office for missing persons.
"We welcome the initial steps taken by your government to implement this resolution. We note the progress made to constitutional reforms, in particular we know the government commitment to the establishment of the office of missing persons and release of lands in militarized zones," he said.
Dion, however, pointed out that much more needed to be accomplished in terms of reconciliation, and encouraged provincial governments to take advantage of the moment and push forward reforms in terms of good governance and economic reforms.
"There is a need to focus on communities most directly affected by the conflict. Canada is ready to contribute to establish the lives those who were displaced," he said.
Meanwhile, Foreign Minister Mangala Samaraweera said Sri Lanka was keen to engage the Sri Lankan community in Canada and explore meaningful ways for the community to contribute to Sri Lanka's reconciliation and development efforts.
The visit also saw the signing of a Memorandum of Understanding on the 'National Languages Equality Advancement Project' which would improve the delivery of government services in both Tamil and Sinhala.
Minister Dion will be visiting Jaffna, where he will meet the Governor and the Chief Minister of the Northern Province, and civil society representatives, as well as visit several Canadian funded projects. (Nabeela Hussein)