---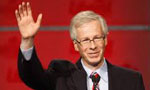 Canadian Foreign Minister Stéphane Dion arrived at the Bandaranaike International Airport (BIA) today on a two-day official visit. He is being accompanied by an eight-member delegation.
The foreign minister and the delegates was welcomed by Deputy Foreign Minister Harsha de Silva, Canadian High Commissioner Shelley Whiting and Foreign Affairs Ministry Secretary Chitranganee Wagiswara.
Minister Dion would hold bilateral discussions with Foreign Minister Mangala Samaraweera tomorrow.
This visit to Sri Lanka by a Canadian Foreign Minister comes after 13 years and in less than a year after the formation of Prime Minister Justin Trudeau's Government.
On the same day, the Canadian minister would also call on President Maithripala Sirisena, Prime Minister Ranil Wickremesinghe and Leader of the Opposition R. Sampanthan. He was also due to meet Minister of National Co-existence, Dialogue and Official Languages, Mano Ganesan, on this day, where he would discuss the support extended by Canada for the National Languages Equality Advancement Project (NLEAP).
The following day (29) Foreign Minister Dion will travel to Jaffna, where he will meet the Governor of the Northern Province Reginald Cooray, Chief Minister C.V. Wigneswaran and members of civil society. The Minister will also visit Canadian funded projects including the Jaffna Hospitality Training Centre and an Agro Economic Development Project (ADP) funded by Canada with UNDP and FAO support, relating to agro economic cooperatives in the dairy and agriculture industries. (T.K.G.Kapila and Ranjith Ferdinandus)