---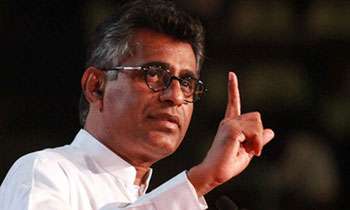 Minister Champika Ranawaka said yesterday the Janatha Vimukthi Peramuna (JVP) could not be compared with the LTTE.
He said this at the 2018 Virudana Ranaviru Upahara or commemoration of war heroes organised by the JHU at the Mihindu Seth Madura in Attidiya.
The minister said though the JVP was responsible for a large number of political killings, it never conducted any mass killings or destroyed religious places of worship.
He said there were a group of people in this society that see the crimes committed by the LTTE as heroic acts, but requested the people to remain calm and act intelligently to defeat them.
The minister said there were no Tamil political prisoners in this country.
"There are 56 LTTE suspects detained, against whom lawsuits had been filed, and there are another nine individuals pending court cases. There are also some security forces personnel in prison on various charges," he said.
The minister said in 2010 some 12,260 LTTE leaders were released and the country had to pay that price now. He said the security personnel who are in custody did not commit crime for their personal benefit but had only acted on the orders from their superiors, who are now living in comfort.
He said some 26,000 soldiers were killed and some 17,000 were disabled as a result of the 30-year war -- 23,000 LTTEers were killed while some 9,000 civilians belonging to all ethnic groups were killed by the LTTE.
The minister said according to records, some 5,000 Tamils were killed as a result of this war, and that the Government has the responsibility to take care of those who were injured.
He said a small group of people was attempting to venerate LTTE Leader Velupillai Prabhakaran and lead the country towards darkness again.
Venerable Omalpe Sobitha Thera said some separatist groups attempted to make May 18 a national day of mourning.
"This day should be celebrated with joy as it is the day we received freedom from a 30-year war. Some attempt to compare the JVP with the LTTE. What the JVP did was political as it attempted to topple the government, but the LTTE attempted to separate the country, killing thousands of innocent people. Only those from the diaspora will attempt to justify the commemoration of the LTTE," the Thera said. (Thilanka Kanakarathna)
Video by Damith