---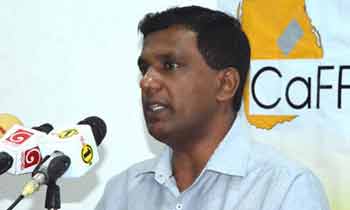 Political parties had not understood the new mixed electoral system properly, election watchdog Campaign For Free and Fair Elections (CaFFE) Executive Director Keerthi Thennakoon said today.
He told the Daily Mirror that in many areas politicians had resorted inciting communal feelings ignoring the composition of the population in their respective wards, as they had done during the previous elections, which were conducted under the Proportional Representation (PR) system.
"Those days they exploited the communal feelings as they wanted to attract voters of their community from all over the respective local government area or the district, whereas now they have to address all communities in the respective wards, which is good in a reconciliation perspective," he stated.
Tennakoon said that his organisation has initiated an awareness programme around the country to educate the candidates contesting the local government elections scheduled to be held on February 10 on the new electoral system.
Some candidates in the north could face repercussions of using the LTTE propaganda materials in their election campaigns, such as the songs used by the LTTE in their propaganda activities.
"Their campaign will be hampered if one candidate is arrested on the grounds that the LTTE propaganda materials they are using are illegal," he stated.
He added that apart from the SLFP which had played LTTE songs at a meeting in Jaffna last Thursday, several other political parties, as well as independent groups, had been using LTTE songs and slogans in their meeting in Kilinochchi and Mullaithivu Districts, just to exploit the feelings of the LTTE sympathisers among Tamils in those areas.