---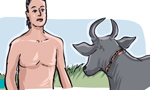 The Gampaha Police are on the lookout for a person called 'Dunesh Priyasantha, alias Kondaya,' as he was allegedly found naked near a female calf.
The calf, which belongs to a retired naval officer, had been tethered for the night. It had suddenly started to moo in fear at about 10.00 pm on Saturday. The officer had flashed a torch and seen Kondaya naked near the calf. Kondaya had then run away.
The owner had complained to the police who had come and found a pair of shorts, a T-shirt and a skirt at the spot. A police team is seeking to arrest the person. It is believed that he had attempted to perform a sexual act with the calf.
Gampaha HQI Deeptha Badrajedha Kalinga and his team are conducting investigations.