---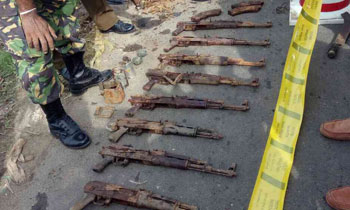 The Special Task Force in Jaffna recovered a cache of weapons wrapped in a fertiliser bag and dumped in a roadside drain at Navanthurai on the Jaffna- Vaddukoddai Road early today.
This came on the eve of the commemoration of LTTE Leader Velupillai Prabhkaran's 63rd Birth AnnivVelupillaithe organisation's Maveerar Naal, which falls on November 26 and 27.
"Ten T-56 assault rifles, 300 rounds of T-56 ammunition, 2 RPG and two smoke bombs were among the weapons recovered," the Police said.
The STF team was able to recover the weapons after a passerby informed the Police about a suspicious bag lying in a roadside drain.
The Police suspect that people who had dumped the weapons in the drain had done so to evade detection by the Police who had been conducting raids these days in view of reports on the arrangements by various groups to hold commemorations of the LTTE leader's birthday and the organisation's Maveerar Day.
The Police said that they were now conducting investigations to ascertain who had dumped the weapons in the drain. (Text and pix by Romesh Madushanka)