---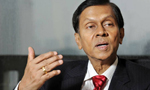 The Police Financial Crimes Investigation Division (FCID) today questioned former Central Bank Governor Ajith Nivard Cabraal in connection with alleged financial irregularities at the CWG Hambantota (Pvt) Ltd.
The sources of the FCID said the statement was recorded from the Mr. Cabraal over two hours in connection with the investigations into the allegation of misappropriation of Rs. 690 million State funds in a bid to hold the 2014 Commonwealth Games in Sri Lanka.
The CWG Hambantota (Commonwealth Games Hambantota) was formed in 2011 to compete with a number of other firms from foreign countries to secure the opportunity to hold the games in Sri Lanka.
The FCID also summoned Mr. Cabral in October 3 to record a statement in connection with same allegation.(Darshana Sanjeewa)