---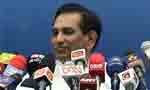 The Cabinet has given green light to legalise criteria or guidelines issued by the Elections Commissioner during elections to be complied by the print and electronic media, Cabinet Spokesman Health Minister Dr. Rajitha Senaratne said today.
The proposal had been made by Prime Minister Ranil Wickremesinghe.
Accordingly, the criteria or the guidelines would be Gazetted and passed in Parliament as a resolution for compliance by electronic or print media and activists, to ensure free and fair referendum or an election.
The relevant resolution containing the guidelines will have to be published through a Gazette notification and submitted within three months to Parliament to obtain its approval.
These media guidelines are issued in order to create a conducive environment to hold a free and fair election and it is the responsibility of all political parties, independent groups and political activists, observer organisations and civil organisations as well as all the citizens to refrain from obstructing the media organisations in adhering to these criteria or guidelines, Mr. Wickremesinghe said in his Cabinet memo.
It was customary that Elections Commissioner used to issue guidelines to be adhered to by the print and electronic media during elections to ensure free and fair election. (SAJ)
Video by Richan