---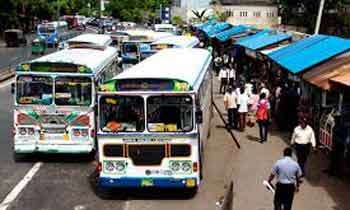 The Inter-Provincial Private Bus Association (IPPBA) said it cannot accept the Cabinet Approved fares increase of 6.56 per cent, which would come into effect from tomorrow midnight and that it would launch an islandwide bus strike from by midnight tomorrow against the decision.
Speaking to the Daily Mirror IPPBA President Sarath Vijitha Kumara said they had requested the Transport Ministry and the National Transport Commission (NTC) to increase the bus fare a minimum of 15 percent, while amending the minimum bus fare to Rs.15.00.
"We had a discussion with the Transport Deputy Minister Ashoka Abesinghe and several other officials this morning but the discussions were not successful. The 6.56 percent Cabinet Approved bus fare increase cannot be accepted," he said.
He said with the 6.56 per cent their proposal to the Ministry had been a joke and nothing can be done with that increment.
"The NTC did not consider our criteria. According to our calculations there should be a bus fare increment of 17 percent but being reasonable we requested 15 percent increment," he said.
Mr Vijitha Kumara said the NTC postpones fare hike saying that starts it starts calculations in May and therefore there was no sufficient time to issue the annual bus fare rates by July 1.
"Therefore, the NTC always says a reasonable bus fare increment could only be given the following year," he said.
"After tomorrow night this will going to be another revolution in the private bus industry like we did previous time," Mr Kumara said.
"We are launching the strike not to cause inconvenience to the passengers but against the recent fuel hike," he said. (Chaturanga Samarawickrama)