---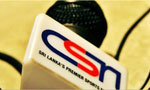 Court of Appeal yesterday issued Notices on the Mass Media Ministry secretary, Mass Media Minister Gayantha Karunatillake, the Telecommunications Regulatory Commission and its director general, pursuant to a Writ petition filed by Carlton Sports Network (Private) Limited challenging the impugned decision to revoke its Television Broadcasting Licence".
The Bench, comprising Justices Vijith Malalgoda (President/CA) and S.Thurairajah, issued order to maintain status quo as of yesterday, in respect of the licences for four frequencies allocated to CSN by the Telecommunications Regulatory Commission.
Court fixed the case to be supported for interim relief on November 16.
President's Counsel Sanjeeva Jayawardane, making his submissions on behalf of CSN, alleged that the revocation of the broadcasting licence of CSN was akin to gagging the media.
He alleged that before the alleged revocation, there was no show cause notice issued, no allegations made, no inquiry or hearing and no charge sheet issued. The cancellation was mala fide and with intent to deceive and contrary to the principles of natural justice, he said.
CSN cited Parliamentary Reforms & Mass Media Ministry Secretary Nimal Bopage, Minister Gayantha Karunatillake, the TRC and its Director General Sunil S.Sirisena as Respondents.
Sanjeeva Jayawardane PC, with Kaushalya Molligoda, Lakmini Warusevitane and Charitha Rupasinghe, instructed by Nisanka Wijesinghe, appeared for CSN.
CSN states it is engaged in carrying on the business of operating a terrestrial television network and the production of television programme content for broadcast.
It claims it has not violated any of the terms and conditions contained in its licence. It maintains the revocation has been resorted to as a pre-emptive strike, without even affording it the basic right and concomitant safeguard of being issued some form of show cause notice or intimation of the allegations against it.
It contends that the right to be heard is indispensable, inalienable and indivisible and needs to be afeguarded.
It alleges the revocation by the Media Ministry Secretary is utterly and most grievously ultra vires and illegal, arbitrary, capricious and unreasonable and violative of the basic principles of natural justice.
It is seeking the Court to quash the decision by the Ministry Secretary and restrain the Secretary from interfering with the operation, functioning and broadcasts of its television channel. (S.S.Selvanayagam)