---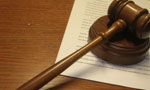 The Kaduwela Magistrate today approved the transfer of Rs. 157.5 million from a bank account of a private company to the Central Bank of Sri Lanka (CBSL).
While investigating the Carlton Sports Network, the FCID also investigated the source of Rs.157. 5 million deposited in the name of a private company in a private bank.
The company in question stated the money did not belong to them and was willing to transfer it to the Treasury.
Accordingly, the FCID filed a motion and obtained approval from the Kaduwela Magistrate Dhammika Hemapala, to transfer the money to the Treasury. (Irangi Edirisinghe)