---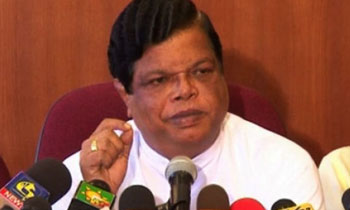 The Colombo Stock Exchange (CSE) would collapse because of the short-sighted fiscal policies adopted by the Government, the Joint Opposition said today.
It said the Department of Supervision of Non-Banking Financial Institutions of the Central Bank had issued a notice on December 5, to cancel the licence of the Central Investments and Finance PLC (CIFL).
"The notice said the Monetary Board had decided to issue a notice of cancellation of the licence issued to the CIFL to carry on finance business. Cancelling the licence of listed companies would make an adverse impact on the CSE," MP Bandula Gunawardane said.
He said the Government, when MP Ravi Karunanayake was the Finance Minister, decided to reimburse Golden Key depositors with public funds, an attempt heavily criticised even by the International Monetary Fund (IMF).
"There is no method in the world where taxpayers' money could be utilised to compensate depositors of a private financial company," he said.
He also said the Government was known for its fiscal mismanagement internationally, and therefore, no foreign or local investor would come to Sri Lanka. (Lahiru Pothmulla)
Video by Buddhi