---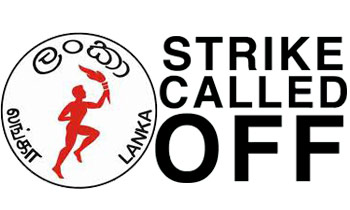 The indefinite strike launched by the Ceylon Petroleum Corporation (CPC) Trade Unions' collective has been called off following a written assurance given by Prime Minister Ranil Wickremesinghe that no agreement will be signed regarding the China Bay Oil Tank Farm in Trincomalee during his Indian tour, the Trade Unions Collective said this evening.
The assurance was made during a discussion between Trade Union representatives and the Prime Minister, together with Development Strategies and International Trade Minister Malik Samarawickrama, Petroleum Minister Chandima Weerakkody and several other government representatives at Temple Trees.
A countrywide protest held by the CPC unions collective yesterday leading to a fuel shortage across the country demanding to halt the government moves to sign the agreement on leasing the China Bay Oil Tank Farm to Lanka Indian Oil Corporation (LIOC).
Speaking to the Daily Mirror Union Spokesman Bandula Saman Kumara said the unions have stopped their trade union action following a written assurance given by the Premier that no agreement would be signed regarding the China Bay Oil Tank Farm during his Indian tour.
Earlier, the striking petroleum workers insisted on a written assurance from President Maithripala Sirisena that the Trincomalee oil farm would not be leased to the Lanka India Oil Company if they were to call off the strike.
Earlier in the evening, TU representatives held talks with Petroleum Minister Chandima Weerakkody. Later the President had responded to the union request, saying that he could not meet the union members at that time but would give a date to discuss the matter later and requested to call off the strike until then.
As the striking petroleum workers insisted that the trade union action would not be suspended, a meeting was arranged with the Prime Minister.
Meanwhile, Prime Minister's office sources said that the Premier had agreed to discuss the Trincomalee oil tank issue with Indian authorities only after talking to relevant trade unions. It has also been agreed that trade unions will get the opportunity of discussing the issue with the cabinet sub committee on the Hambantota Port development.
In addition Petroleum Resources Minister Chandima Weerakkody will submit a report on the development of the Trincomalee oil tank to the cabinet committee on financial committee.
The people were inconvenienced during the strike and long vehicle queues were seen at several filling stations.
Saman Kumara said during the strike period 650 to 700 of the 1,300 filling stations ran out of fuel. (Yohan Perera and Thilanka Kanakaratne)
Video by RM