---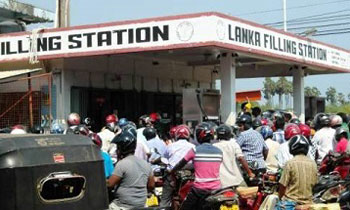 Following the Cabinet approval granted to lease out the Hambantota Port to China Merchant Company, the Ceylon Petroleum Corporation Trade Union Collective (CPC TU) today vowed to continue their strike launched Monday night,
The CPC TU Collective Convener D. J. Rajakaruna said issuing fuel and operating of fuel bowsers had come to a standstill and the strike was successful.
"The fuel remaining at fuel stations will only be sufficient for today, due to the excessive amount of fuel issued.
"The Government decided to deploy Army personnel this morning to refineries to streamline the fuel distribution process. However, we did not allow them to enter the premises," he said.
"We will not the Government to deploy Armed forces to issue fuel from the refineries," he said.
"The Government is responsible for the inconvenience caused to the public, as it is the Government who had pushed us into this strike.
"We are awaiting response from the Government, otherwise we would continue this protest until the country goes into total darkness," he said.
"Even if the Government wants to negotiate, we will not stop the strike. But will do so while continuing the strike," he said.
The TU Collective said that fuel was running out at the Liquefied Natural Gas (LNG) power plant at Kerawalapitiya, while issuance for of fuel to planes was also coming to a standstill. (Chaturanga Pradeep)