---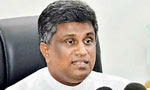 The Committee on Public Enterprises (COPE) would present a landmark report which will hold all those responsible for the alleged bond scam culpable and call for their arrest, said Deputy Minister and COPE member Ajith P Perera at a media briefing last evening.
He said the report would hold the owners and directors and others responsible for the scam, and call for their arrest.
Asked whether former Central Bank governor Arjuna Mahendran would not be held responsible, Mr Perera told journalists to wait till Thursday and find out. "Do you want all the news today?" he asked, when they questioned him.
He said the United National Party (UNP) MPs only wanted to see that the COPE report did not leave any loopholes in the event of a court case.
"The draft report prepared by Mr. Handunnetti only states that there is evidence to suggest that the Central Bank governor had been involved in the scam. This is far from satisfactory, as it should have named the offenders," he said.
"It was we who suggested that Perpetual Treasuries should be held responsible, and that its directors should be arrested," he said.
He refuted the allegation that the UNP MPs had threatened the Auditor General, and said the MPs had had a cordial discussion with him. "We agreed with the Auditor General's statement that he did not have a mandate to do certain things," he said.
He denied that COPE chief Sunil Handunnetti had decided keep away temporarily. "We all place our trust in Mr. Handunnetti," he said. (Yohan Perera and Kelum Bandara)