---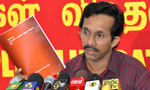 COPE Chairman and JVP MP Sunil Handunnetti, in his note with regard to the report on the Central Bank bond scam, urged the people, students and professionals to study it in-depth to understand who plundered public wealth and who covered up for them.
He told the House after presenting the report that COPE was assigned the arduous task of conducting inquiries into the irregularities in the controversial bond controversy. He said it was a highly responsible and complex task as Chairman and that it was more of an issue concerning the public finance administration of the country.
"There was a discussion in the public domain whether it would be possible to expose the fraudsters and bring them to book and whether a proper report would be presented to Parliament," Mr. Handunnetti said.
He said though the task was complex and challenging, COPE was able to finalise the report with a novel political experience.
"Sovereign rights of the people are implemented through Parliament. Inquiring into the bond issue is the exercise of such rights of the people," Mr. Handunnetti said adding that the finalisation of the report was a historic moment and a victory for those who clamoured for an anti corruption drive.
A total of 15 MPs from the JVP, the Tamil National Alliance (TNA) and the United People's Freedom Alliance (UPFA) from the government and the joint opposition have signed the report which was submitted separately without footnotes while the report with footnotes was signed by the nine MPs from the United National Party (UNP). (Kelum Bandara and Yohan Perera)