---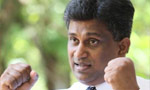 Power and Renewable Energy Deputy Minister Ajith P. Perera yesterday said he had expected a tough report from the COPE in which former Central Bank Governor Arjuna Mahendran was held responsible for the Central Bank Bond sale scam.
Speaking to the Daily Mirror, Deputy Minister Perera said Mr. Mahendran and the Directors attached to the Perpetual Treasuries Limited should be fallen under criminal liability whereas they were accused of unjust enrichment.
"I am happy since the Committee on Public Enterprises (COPE) report was unanimous. In my point of view, I was expecting for a tough report where the alleged personnel attached to the bond scam would get penalized under the criminal law. But the JVP did not agree to it," he said.
He said the COPE report which was issued yesterday was a result of the JVP's disagreement on the matter and added that there were several unclear points in the report.
He said that the report issued by the COPE was quite soft comparing with the seriousness of this issue. He also said the wrongdoers would get benefited in the future through this report.
"In conclusion, the UNP has not expected such a report. Since the beginning, we were asking to personally investigate the former and current Board of Directors at the Perpetual Treasuries Limited, as we sensed that the investigation on the company is not sufficient. But the JVP opposed to it," he added. (Kalathma Jayawardhane)