---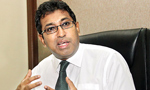 Deputy Minister of Foreign Affairs Harsha de Silva yesterday said he considered the Committee on Public Enterprises (COPE) report in which former Central Bank Governor Arjuna Mahendran was held responsible for the controversial Central Bank Bond sale scam, as a giant step of 'Yahapalana' Government.
Addressing the media at Parliament premises, the Deputy Minister said that it was proof to show the strength of the 'Yahapalana' Government.
"The allegation against the ex-CB Governor, which is a government institute, falls under the rule of the Prime Minister" he added.
He said all the parliamentarians representing several political parties and groups, including the SLFP, UPFA, UNP, JO, JVP, NFF and TNA had given their unanimous approval on recommendations included in the report.
Meanwhile, he said that he had agreed to the recommendations included in the report despite there were several instances which he could not approve during the proceedings because of several technical issues.