---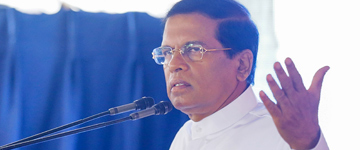 President Maithripala Sirisena said today the investigations into the Central Bank issue should be free of political interference and he would forward it for an impartial and independent judicial process.
He expressed these views while participating at the launch of an SLFP membership drive at Maharagama.
President Sirisena said he came out of the previous government and became the President with the support of everyone, not to punish those who committed wrongs while allowing the others to do wrong.
"My policy regarding this bond issue is all politicians should stay away from the investigations and it should be forwarded to the courts for an impartial and independent legal action. This is not an issue that the politicians can resolve," he said.
"The COPE has presented a report according to the standing orders in Parliament and our constitution. People have different opinions on this report. Some say it is wrong while some others say it if right. It is the politicians who say so. They may be wrong or right. We should look at them carefully," he said.
The President said he would take legal advice and forward the report to the court for an impartial probe and a verdict.
"Then we can see who is wrong? Who is right? Who is clean and who is not," he said. (Muditha Dayananda)
Video by Janaka