---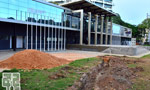 The Colombo Municipal Council (CMC) today said it was not certain as to when the renovation of the Hyde Park Ground would be completed so that it could release the ground to those who had reserved it including, MP Vasudeva Nanayakkara.
MP Nanayakkara's Democratic Left Front (DLF) has reserved the ground for August 1, the day Jana Satana Paada Yathrawa protest march is scheduled to reach Colombo from Kiribathgoda.
While saying the renovations were not abrupt, Municipality's Sports and Recreation Director R. A. Shalika Ranaweera said she had requested the Engineering Department to expedite the work.
"The renovations were pre-planned to remove stagnant water from the ground, so it could be used for sports without a hassle. Residents had also informed us about this issue. The Sports Department had been accepting reservations for the ground and in the meantime, the Engineering Department had started renovations. These kinds of renovations aren't unusual," she said.
Ms. Ranaweera said the ground would be released as soon as the renovations were completed and if they couldn't complete on time, they would suggest alternative place for those who had reserved the ground.
Meanwhile, Municipality's Commissioner M.K.V. Anura said the ground had been reserved by various persons and institutions throughout and it would be released as soon as renovations were completed.
"MP Nanayakkara, another MP from United National Party, and others too have reserved it. If we could get the renovations done by tomorrow night or the last minute, we can release it the very next day," he assured. (Lahiru Pothmulla)