---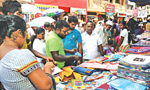 Taking a new turn on the ongoing saga between vendors in Bodhiraja Mawatha and Fifth Street in Pettah and the Colombo Municipality, the Treasurer of the Colombo Municipality K.D.Chitrapala today said they had decided to take legal actions against 831 vendors who have not paid initial deposits and lease payments.
Among the 831 vendors, there are 531 vendors from the Fifth Street in Pettah and the rest (300) are in business in Bodhiraja Mawatha, Pettah.
The vendors who were first evicted from the streets of Pettah were provided with the alternative place of business by the Municipality for a nominal lease payment.
However, the municipality said that close to Rs. 107 million, Rs. 3 million of which was to be paid to the state as VAT, was defaulted by more than 800 vendors who used the premises for business.
CMC Treasurer K.D.Chitrapala told the Daily Mirror that they made the decision regarding legal actions against them because the vendors did not settle the payments even after the Municipality had issued a final notice for vendors to pay up.
He said Colombo Mayor A. J. M Muzammil directed immediate legal action against those who have not paid. The proposal was presented to the Committee and the approval was also given to go ahead with legal action, he said.
According to him, currently the Legal Activities Branch of the CMC is in the process of preparing necessary documents to be produced to Court.
"In the first phase, we will file cases against some twenty five vendors in Colombo Fort Magistrate's Court for avoiding the payments. After that, all other 806 vendors will be taken to courts," he said.
Colombo Mayor, A. J. M Muzzamil has directed authorities to take legal action against those who have sold or rented out their stalls to third parties.
"I sent them letters demanding complete payment. Even the initial deposits have not been paid by some vendors from 2010, though the CMC had sent them letters as well as officers reminding vendors," Chithrapala said.
"We gave them too many chances. These vendors pay thousands daily to their organizations though they deny it. But, they are not paying their legal lease payments to the CMC. I have evidence to prove this," he said.
The Treasurer further stated that renting or selling stalls without the permission of CMC was illegal. A survey found that 392 stall have been sublet or sold out to other parties in Bodhiraja Mawatha market place.
The real owners of the stall were making thousands a day at home by controlling the market place and also enjoying the benefits provided to traders, Chithrapala said. (Piyumi Fonseka)