---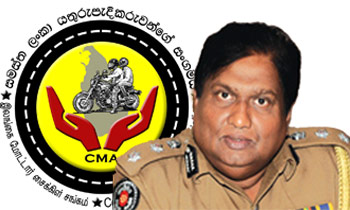 Police officers who lose their temper while on duty should undergo a mental health assessment on a regular basis to prevent unnecessary assaults on motorcyclists, the Ceylon Motorcyclists' Association (CMA) said yesterday.
They submitted a video clip to IGP Pujith Jayasundara that went viral on social media showing a traffic police officer attacking a motorcyclist.
CMA Secretary Chirantha Amarasinghe said a few mentally ill patients attached to the police department tarnished its reputation by conducting themselves in an unruly manner.
Posting a video of a motorcyclist being assaulted by two traffic police officers last Monday, the CMA requested relevant authorities to initiate an investigation into the police officers' behaviour.
Responding to these allegations, Police Spokesman Priyantha Jayakody said the police personnel would undergo a training programme which would help them control their emotions.
He said the Police Department did not consider the statements made by certain groups seriously and that the CMA was not in a position to advise the police.
"We believe our officers are receiving fair training. Therefore, we deny the charges levelled by the CMA. They want to create a tense atmosphere among the people. They also try to advise the President at times," DIG Jayakody said.
He said the Police Department was bound to maintain Law and Order, and was not concerned about any baseless allegations levelled by these groups. (Thilanka Kanakarathna)