---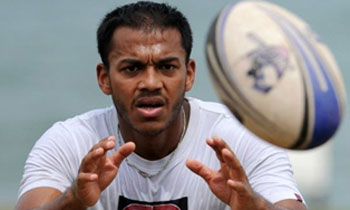 CH & FC have been left fuming over 'unfair' criticism on flanker Yoshitha Rajapaksa especially in social media, following a brawl that broke out at the end of their Dialog Inter-Club League Rugby Tournament match against Navy Sports Club at Welisara on Saturday (30).
The former Sri Lanka forward has been related to a photograph on which he appears to have his hands around Navy SC second row forward Lahiru Wishwajith, but a club spokesman revealed that the incident has largely been misinterpreted.
"People have misunderstood the situation. There was certainly a brawl between the players from both the teams which is not right. But sometimes in a very physical game like rugby, things like this could happen. However, the club is shocked over the unfair criticism on Yoshitha because he was hardly involved in this. There was no fight between him and Lahiru," said the spokesman.
In fact Lahiru Wishwajith himself cooled the situation claiming "these things are normal in rugby."
"On December 30, I took part in the Navy SC versus CH & FC rugby match, and I'm personally happy about Navy SC winning the match. After the game there were some little problems, but these things are normal in rugby match situations. But some people are trying to use this as a political point. Personally, I don't have any problems with any of my opponents. I personally don't appreciate people trying to involve me on political matters with regard to the situation. If I made a mistake after the match, I personally apologise on my behalf and I don't like to involve myself in any political issues under any circumstances," the Navy SC second row forward posted on social media. Meanwhile, CH & FC have directly put the blame on Navy SC Skipper Danushka Perera (nicknamed 'Gertha') over the incident.
"Gertha ran in towards our bench and started shouting with indecent words. We kept our calmness for some time and told him to go away, but he did not stop, and it was only after that the players got involved in it," said a source close to the CH & FC Team.
In fact, more than half of the current CH & FC players represented Navy SC last season, and it is revealed that CH & FC contacted most of them through Yoshitha Rajapaksa's best friend once upon time - Danushka 'Gertha' Perera.
However, the source further claimed that Perera opted to remain at the club after 'his salary demands were refused by the CH & FC.'
"Gertha and Yoshitha were great mates, and some of the players were introduced to CH & FC by Gertha. However, when negotiating his salary, he demanded a salary of Rs. 800,000 which is certainly too much for a player in his mid 30s. May be he is still upset over that," claimed the source.
Meanwhile, Daily Mirror also learns that Perera decided against joining the Maitland Crescent Club due to the fact that he was unwilling to play alongside a certain back division player in the CH camp over a personal issue.
Navy head coach Mothilal Jayasekara and team manager Menaka Suranga refused to comment when contacted by Daily Mirror. (Harsha Amarasinghe)