---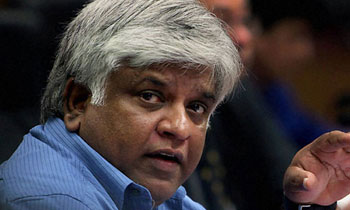 Petroleum Resources Development Minister Arjuna Ranatunga today said if the Indian Oil Company (IOC) unilaterally increases the prices of petroleum products, the Ceylon Petroleum Corporation (CEYPETCO) would sell oil at the current price even though it incurs losses.
Commenting on the reported decision by the IOC to increase oil prices, Minister Rnatunga said the government had no intention to increase oil prices in the domestic market.
"IOC officials discussed their decision to increase oil process with me but I requested them not to do so. I believe that this is not then time to place an added burden on the people by increasing oil process though global oil process are rising rapidly. The government is aware that if oil prices go up prices of all goods including essential commodities will also go up and the government does not want that to happen," Minister Ranatunga stressed.
Minister Ranatunga added that he would take all steps under his command to run the CEYPETCO as a no-profit no-loss venture as the government does not intend to earn a profit from oil business by putting a burden on the people. But at the same time the CEYPETCO cannot be run as a loss making venture because losses incurred are heavy.
Minister Ranatunga said a price formula is a necessity to regulate oil process in line with the prices of the global oil market that would fluctuate domestic oil prices simultaneously giving the consumer losses as well as savings of money.
Minister Ranatunga lamented that CEYPETCO incurred heavy losses from kerosene and diesel as there was no price formula for the two products. (Sandun A Jayasekera)