---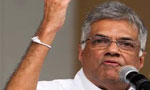 The Comprehensive Economic Partnership Agreement (CEPA) between Singapore and India, the Economic and Technological Cooperation Agreement (ETCA) that is to be signed between India and Sri Lanka will help establish a tri party programme which will benefit the South Asia and the South East Asian Island, Prime Minister Ranil Wickremesinghe said today.
Mr Wickremeisnghe who was speaking during the South Asian Diaspora Convention 2016 held in Singapore said these agreements would create a win-win situation for all the nations involved in it.
"Sri Lanka has achieved political stability which will be a foundation for a stable economy," the Prime Minister said.
He said Sri Lanka would soon take away the barriers that had prevented international trade agreements 'Since we have identified poor infrastructure facilities, business environment and policies have been barriers for the development of international trade we have embarked on developing sea, air routes, highways , energy and communication facilities . This he said will help the Asian region as well as Sri Lanka.
Singaporean National University's Asian Affairs Studies unit Gopinath Pillai who welcomed the guests said the public focus on the Diaspora convention had increased almost daily.
The biography of the first Singaporean Dr Wijeratnam was also launched during the convention.