---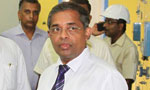 The Ceylon Electricity Board (CEB) has curtailed hydro power generation at some of the plants because of the the prevailing dry spell but will not lead to constant power cuts, Chairman Anura Wijepala said.
He said consumers need not panic because the CEB was capable of providing an uninterrupted power supply.
Mr. Wijepala said the drought which is wreaking havoc in the country has drastically reduced the water levels in almost all the hydro-power generating reservoirs and that currently only one-fifth of the total demand is generated by these plants as opposed to the 40% to 45% generated under normal conditions.
"Electricity demand in the country is met by nine thermal power stations, 15 large hydro- power stations and 15 wind farms, with a smaller share from small hydro facilities and solar power," Mr. Wijepala said. "The problem we have been confronted with right now, is that the hydro-power generation has dropped to 22% of the total capacity and the gap has to be filled by Private Power Providers (PPP) which costs the CEB dearly."
The water levels have drastically reduced at reservoirs in Broadland, Canyon, Castlereagh, Laxapana, Norton, Mausakelle and Bowatenna, Deduruoya, Moragahakanda, Kotmale, Polgolla, Rantambe, Randenigala, Upper Kotmale, Victoria and Kukuleganga that come under the Mahaweli Authority, which the CEB utilizes for power generation. In some reservoirs the water level has dropped to more than 40% of the total capacity.
'The Mahaweli Authority gives priority to release water for drinking and agricultural purposes and only then releases water for power generation. For instance, the CEB does not use the Rantembe reservoir for power generation for about two weeks, as the water has to be released for the Yala Season," Mr. Wijepala said. (Sandun A Jayasekera)