---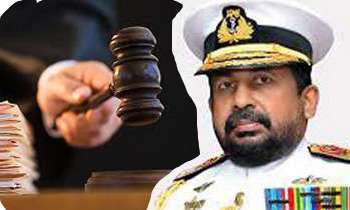 Chief of Defence Staff (CDS) Ravindra Wijegunaratne, who appeared in the Colombo Fort Magistrate's Court through his Counsel Anuja Premaratne PC for allegedly intimidating a witness and the investigation officer Nishantha Silva was remanded till December 5 by Fort Magistrate Ranga Dissanayake today.
During the investigations into the case of Former Navy officer and the first suspect in this case Naval Officer Prasad Hettiarachchi allegedly for abducting and making 11 civilians disappear, D.S Tissera of the CID appearing with OIC Nishantha Silva made a lengthy submission and said that CDS Wijegunratne had attempted to shoot and abduct witness Laksiri Galagamage at the Naval Restaurant at Navy Headquarters.
They said the witness Laksiri had made a complained to the Fort Police and had stated that there were threats on his life from the second suspect Ravindra Wijegunaratneof the CDS.
The detectives also asserted that suspect Wijegunratne had written and complained to IGP Pujith Jayasundera that Investigating Officer Nishantha Silva was an LTTE supporter and the CDS had further inquired from IGP whether there were any complaints against the investigation officer over his awful behaviour.
They further said that the CDS had asked the IGP to transfer the investigating officer from CID to some other division.
However, the transfer was later cancelled because of the intervention of the CID and the Police Commission.
SP Tissera said the CID had asked the CDS to come to the CID on three occasions to make a statement to the CID over the alleged harbouring and aiding and abetting of the first suspect to abscond CID investigations.
However, the CDS did not come to the CID to make a statement even after several reminders were made.
The CID said the CDS had attempted to disrupt the investigations against the first suspect from the very inception of the investigations.
Magistrate Dissanayake on perusing the submissions made by the CID, Fort Police over their investigations into the Complaint of witness Laksiri, the aggrieved parties and the suspect's counsel, remanded the suspect till December 5. (T. Farook Thajudeen)
Video by Prasanna