---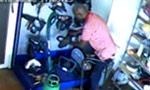 A CCTV footage which shows a man arrived in a three-wheeler burgling several equipments from a hardware shop in Thalawathugoda had been released to the media by the police.
They said the number plate of the vehicle had been forged and no arrest have been made so far.
The incident had been taken place on Friday night.
Video by Bimal Shaman Jayasinghe