---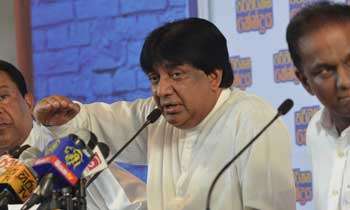 MP Dilan Perera today charged that the controversy involving the appointment of judges to the Supreme Court and the Court of Appeal between the Constitutional Council (CC) and the Presidential Secretariat has affected the entire judiciary badly.
He pointed out that it was sad to witness that the government is of the view that the CC must not approve nominations of the President to the apex courts if the nominees are not favourable to the government.
"The continuous rejection of nominees sent by the President to the CC is not good for the judiciary. This rejection is controversial and put the independence of the CC in doubt. The independent commissions were formed to keep the main arms of the state independent. But here, it seems even the CC is not independent," Mr. Perera said.
Mr. Perera said one of the main factors to give promotions to judges was seniority in addition to efficiency. The rejected judge has an excellent track record on performance and also one of senior most judges.
He said the comments made in Parliament today by Speaker Karu Jayasuriya on the remarks made by President Maithripala Sirsena was unnecessary as it created a disorder in the House and added the CC has not given any reason for the rejection of the nominee of the President.
"The CC must not do this only because this particular judge has given a judgement they do not like in the past. The action of the CC shows that it is biased against this particular judge. This action negates the policy that the CC must be fully independent," Mr. Perera said..
A set of guidelines has to be introduced on how the CC must act and maintain its independence without political influence, he stressed. (Sandun A Jayasekera)