---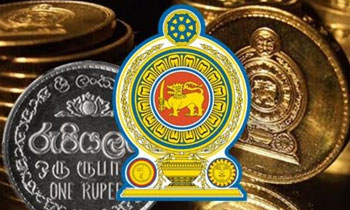 Gazette Notification No. 1895/19 dated 1 January 2015 issued by the then president, Mahinda Rajapaksa is a unique example of relevance of fraudulent management of public debt by him, the then CB Governor Ajith Nivard Cabraal and officials in the Central Bank (CB) in violation of laws, the Finance Ministry announced today.
Issuing a press release, the Ministry made several interim clarifications for the gazette revealed during evidence given by the secretary to Ministry of Finance on 23 February 2017 to the Presidential Commission of Inquiry (PCoI) on the Treasury bond issuances
"The gazette contains authorization given under section 4 of the Registered Stock and Securities Ordinance to raise loans during the year 2015 through issuance of 31 Treasury bonds of different redemption periods at different interest rates at auctions as notified by the Registrar of Public Debt through newspapers," it said.
The ministry said that the bonds stipulated in the gazette included many bonds issued in the past at various interest rates since 2011, and that it appeared that the Gazette authorized the past bonds as well.
"According to the gazette, loans will be raised through those bonds within the sum of Rupees one thousand seven hundred and eighty billion authorized in the Appropriation Act, No. 41 of 2014," the ministry said.
However the practice followed in the past by the CB was to issue the gazette back-dated to January 1 each year, after issuing all bonds during the year in a hidden attempt to comply with the requirement of Section 4 of the Registered Stock and Securities Ordinance, while mismanaging bond issuances, it said.
The ministry also informed that the required protocol had not been followed while issuing the particular gazette as instead of sending the draft to the secretary of the line ministry to obtain legal and technical clearance, the Superintendent of the Public Debt (PD) Department had directly sent it to the Government Printer after getting legal clearance from the CB lawyers.
Meanwhile, the ministry noted that all Treasury bonds had been issued in violation of the provisions of the Registered Stock and Securities Ordinance and the CB officials mismanaged public debt to facilitate the Mahinda Rajapaksa Government and Ajith Nivaard Cabraal, through the questionable private placements of bonds.
However, in the gazettes issued in the past, all private placements were legalized as issuance at auctions announced by the Registar of Public Debt.
The ministry said that appropriate legal action would be taken against the officials involved under the provisions of the Registered Stock and Securities Ordinance. (Thilanka Kanakarathna)