---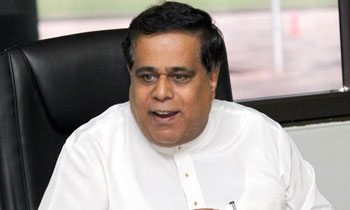 President Maithripala Sirisena will take prompt action to implement the recommendations made by the Presidential Commission of Inquiry into Central Bank bond issue when the report is submitted to him by next week, Minister Nimal Siripala De Silva said.
He said the President would take legal action before the February 10 elections against anyone found responsible for the bond scam.
"I don't see any reason why President Sirisena should delay to act on the recommendations because the entire country is awaiting for the result," the minister said.
He said the SLFP handed over nominations to 93 local government bodies.
The National Congress that supports the UPFA handed over nominations to three local government bodies and the CWC and an Independent Group one each.
At the second stage, the SLFP handed over 96 nominations, the UPFA 146 and the CWC 6. Accordingly, the SLFP contests for 123 local government bodies, the UPFA 207 and supporting parties and groups 11 out of a total of 341 local government bodies in the fray.
Two SLFP nominations have been rejected by returning officers because of lapses on the part of the organizers.
The Minister said that the SLFP considers the LG election as the stepping stone to win single handedly, the forthcoming PC polls, parliamentary polls in 2020 and presidential poll in 2021.
"The SLFP has given clear instructions to its candidates to follow the election law to the letter and not to use state assets for their poll campaign. We are committed to ensure a free and fair election with no violence and corruption," he said.
Minister Dayasiri Jayasekara said this election was historic because its election campaign is free of violence in many parts of the country. "You may remember that the last LG election held in October, 2011 was marred by widespread violence that ended with the murder of former Parliamentarian Bharatha Lakshman. We don't see that kind of violence this time and it is a victory for the government," he said (Sandun A Jayasekera)