---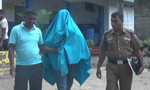 A businessman of Dehiwala who was alleged to have links with underworld figures, was arrested by the police today on charges of kidnapping another businessman and taking Rs 3 million as ransom in June 28.
The victim, who is from Kalutara, has been identified as Chandana Wijemanna, the brother of MP Lakshman Wijemanna.
The suspect, along with seven underworld figures, had taken the ransom from Chandana Wijemanna.
Mirihana Police officers, who conducted the operation today, arrested the suspect and seized the ransom amount of Rs. 3 million along with the suspect's vehicle.
Video and Tex by Biamal Shaman Jayasinghe