---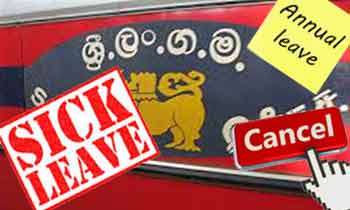 Leave entitlements of Transport Board drivers and conductors had been cancelled due to the scheduled countrywide bus strike, SLTB Chairman Ramal Siriwardana said.
He said the SLTB would assign to service during the countrywide private bus strike.
Mr Siriwardana also said that many SLTB buses would be assigned as the people had been inconvenienced due to the strike.
"Buses would be assigned, not according to the current time table but as per requirement of passengers. The SLTB operates 6,100 buses but about 5,500 buses are operational. Rest of the buses are not assigned for transport service due to shortage of drivers," Siriwardana said.
"Therefore, I have instructed and requested the depot officials to assign experienced drivers, who have obtained heavy vehicle driving license, and even employees in the mechanical, technical sections and those who in the service extension to take on the wheels," he said.
"I have instructed all Provincial Depots to assign as many buses as possible," he said. (Chaturanga Samarawickrama)