---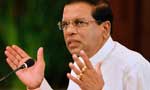 President Maithripala Sirisena said today a decision would be taken on the revision of bus fares after the next Cabinet meeting.
He said this at a meeting with Private Bus Owners Associations at President's House this afternoon.
President Sirisena said representatives of Private Bus Owners Associations would be given a chance to put forward their suggestions before the high-level committee appointed to look into the bus fare revision.
The Cabinet would decide on this matter taking into account the Committee report after considering the proposals of the stakeholders.
It was also decided at the meeting not to issue any new route permits to private buses by the National transport Commission or the Provincial Transport Authorities until further notice.