---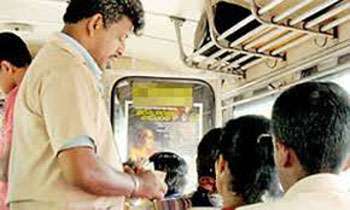 Following discussions held with the National Transport Commission (NTC) the private bus, associations had decided to reduce the fare by two per cent with effect from midnight tomorrow.
However, there would be no change in the minimum fare which is Rs.12, the Associations said.
Speaking to the Daily Mirror All-island Bus Operators Association President Stanley Fernando said all bus associations had decided to reduce fares after the Prime Minister Mahinda Rajapaksa cut prince of auto diesel by Rs.7 with effect from November 1.
He said the associations had decided to grant the benefit of the fuel concession to the people by reducing the fare.
Association members including Lanka Private Bus Owners' Association (LPBOA), All Ceylon Private Bus Association (ACPBA) and The Inter-Provincial Private Bus Association (IPPBA) held the discussions with the NTC Chairman.
Accordingly, the bus fare revision would be effected from the fourth segment of a route onwards.
According to the Interim bus fare revision issued by the NTC, the fare stages Rs.12 which was the minimum stage, Rs.15, Rs.20, Rs.34 and Rs.41 would not change.
The highest fare stage of Rs.858 had been reduced to Rs.848. (Chaturanga Samarawickrama)