---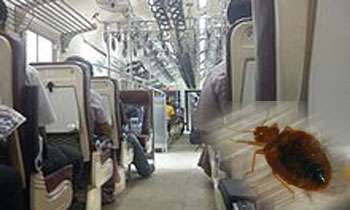 The Railways Department had received complaints from several commuters that there were bugs inside compartments.
Dematagoda Railway Motive Power Sub Department Senior Mechanical Engineer Sarath Bandara said, the several commuters had been bitten by blood-thirsty bugs and it could pose a big threat for the service.
The sub Department had been tasked with cleaning the infested compartments by the Railways following the complaints.
"Many complaints were received from commuters who travelled in S11 Indian made power-sets (Diesel Multiple Units-DMUs)," he said.
"The bugs were found under the cushioned armrests, between the seat and compartment walls and under wooden seats of the old-fashioned retrofitted coaches. Bugs used to live in covered areas in the train seats," he said.
He said that the Railways Department had taken several measures to suppress the bug menace.
"As the first step, we sprayed our own chemical solution to compartments infested with bugs. Then we decided to change the armrests and replace them with new cushions.
"Now we are in the process of replacing the seats with new cushions," Mr Bandara said.
"In our workshop, we have the facilities to clean five or six compartments at a time. Most of the S11 power-set seats had been replaced with new cushions. That will help to run the service bugs-free for at least seven or eight years," he said.
He asked the commuters to help the department to keep compartments clean so that parasites like bugs are kept away. (Chaturanga Samarawickrama)