---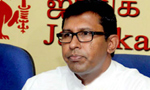 The Jathika Hela Urumaya (JHU) said today the 2017 budget was a frugal budget which would shrink the economic process instead of expanding it.
JHU National Organiser Nishantha Sri Warnasinghe said proposals had been made to control the income and expenditure in the budget even though Finance Minister Ravi Karunanayake claimed that it would be a revolutionary budget.
"We expected considerable amount of funds would be allocated for innovations from the Gross Domestic Product (GDP). We do not see any constructive steps had been taken to develop the economy. This budget would not expand the economy," he said.
He said even though the government expected an economic growth of 7 per cent, it had not formulated any action plan to achieve that target.
"There are no plans to develop the agricultural sector or livestock in the budget," he said.
Mr. Warnasinghe said they did not approve of the government's proposal to give tab computers to A/L students and teachers without seeking expertise advice on the decision.
"Most of the students already use smart phones which come with lot of options such as internet facilities but we need to find out how far they utilise it for their education purposes. There is no follow up action had been proposed to monitor how the students use the tabs for educational purposes," he said.
He said the government had got the priorities mixed up and added that it should have formulated a mechanism to utilise the computer facilities which had been provided to schools.
"There are 4000 computers at the Sri Jayawardene University and most of other schools had been provided with computers but there is no mechanism to monitor whether they are used effectively," he said.
He said the government had imposed a 20% tax on internet facilities while proposing to provide tabs and asked whether the students would be provided internet facilities free of charge. (Ajith Siriwardana)
Video by Sanjeewa