---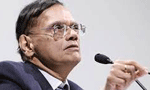 The 2017 Budget as no vision other than including proposals to squeeze the necks of the poor, joint opposition member G.L. Peiris said today.
He said the proposal to increase the minimum penalty on traffic offences to Rs.2,500 had been temporarily withdrawn by the government while a proposal to restructure the 'Samurdhi' as 'Jana Isuru' had been introduced amid objections by the subject minister.
"This is exactly what happened with the previous budget. It was subjected to many amendments and at the end there were only a few of the original proposals left," he told a news conference by the JO economic research centre.
Prof. Peiris however commended the proposal to provide Tabs to students but said it would be of little or no use because the government had increased internet charges.
"Basic facilities provided to the students and schools should have been increased instead of providing Tabs which might not be used," he said.
Prof. Peiris said the government had increased indirect taxes to 75 per cent of the tax revenue. "The poor will be badly affected by the move and said the government should have imposed direct taxes on the elite class," he said and criticized the introduction of a fee when a person files a case in court and described the move as inhumane.
"It is a human right to seek justice. From now on, if a person files a case expecting justice from the court when they are wronged, the government will impose a charge to deliver justice," he said. (Lahiru Pothmulla)